Biography
Jorik C'è is a contemporary circus artist.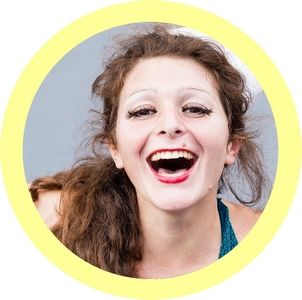 She performs all over the world unicycling on slack rope, while juggling, bringing her technique to amazing levels in Europe.
Where did she perform?
On 14 nations of 3 continents:
Italy – Israel – Ethiopia – Belgium – Germany – Spain and Basque Country – Luxembourg – Switzerland – England – Scotland – Ireland – France – Slovakia…
… And the programming continues!
Jorik comes from Bologna (Italy). She is born on a sunny September 1st of the past millennium.
The attraction for acrobatics, jumping and all skill games have manifested in her since her first step.
The family underestimated art as a job. Jorik has then been addressed elsewhare, but when you have circus inside…. She has spent five years as chef on different european restaurants, but secretly continued to train juggling and balance.
On November 5, 2003 Jorik leaves everything, to start with shows.
She specializes as self-taught in the discipline of slack rope, to which she adds the unicycle long before the advent of smartphones, and when still the e-mail were used only by few people.
She continues with solo shows for several years, looking however for collaborations.
She collaborate with:
With Francesca Mari in "PinUp&Down".
With Sascia Terzi, they found "Gli INVERS".
With Sonia Palermo they direct the historic "NewYears Eve Juggling Convencion".
With "Petit Cabaret 1924", of which she became the top-level equilibrist.
With Eddy Mirabella
With Seraina De Block, Sur Mesure.
She also supports various initiatives within the artists circuit (amateurs and professionals), as the gatherings of the Yucca, of the Cavallerizza Reale, the Renegade Show,… and many others.
In August 2015 Jorik received a phone call.
Romeo Zanaboni, contacted her for the opening performance of the "Petit Cabaret 1924" in Milan. Jorik will be taking part on it as equilibrist act, and it is already great success.
The collaboration with the" Petit Cabaret 1924 " is very fortunate.
Jorik becomes the undisputed "Star of Petit", renamed first by the public and then by the newspapers as"the Tiger of Bologna".
Still in great ferment, with the chapiteau of " Petit" she performs in festivals, fashion shows, private events…
In parallel certainly she continues to perform with her solo shows in festivals, cabaret, ceremonies, private & big events.
Her show has become more and more refined over the years, becoming an incredible instrument of precision for entertainment.
Jorik becomes a reference artist in the Italian scene, and since 2017 she is internationally required.
She meets Seraina De Block in 2017, who sees her potential and proposes herself as manager, with great luck for both.
Seraina is still Jorik's international manager.
Jorik still personally deals with national events, but more often Saccia Terzi is her referent for Italy's.